First working node of the WiGim prototype. The cell has 6 elements one of which is the master node. The calibration tests allow to estimate the accuracy of the UWB measuring system and to set it up. This test also permit to verify the correct functioning of the communication protocol between the nodes. Actually the system is still powered by external power supply and at nowadays the efforts of the development team are concentrated in the resolution of issues related to energy optimization to maximize the lifetime of the batteries even in critical conditions.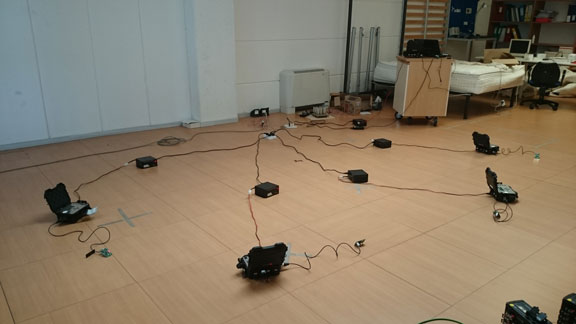 A public competition based on qualifications and interview for the provision of n. 1 research grant ("professionalizzante" typology), duration of 12 months, to be carried out at the Istituto Nazionale di Geofisica e Vulcanologia (ING) Section of Pisa, Italy, as part of the "Wi-GIM Wireless sensor network for Ground Instability Monitoring" LIFE12 ENV/IT/001033 project
Wi-GIM conventional monitoring systems:
| | | | |
| --- | --- | --- | --- |
| UAV F550-Sony NEX5 |   |  Meteo station | |
|  Total Station |   |   Terrestrial Laser Scanner |   |
25-Settembre-2015

Wi-GIM sarà presente in grande stile nella notte della ricerca in Toscana, presentandosi in tre città diverse con seminari, poster e stand divulgativi. Scarica il pieghevole (realizzato Patrizia Pantani).
Relatore: Lorenzo Mucchi
Evento:  Il Giardino dei Semplici è al centro del programma promosso dall'Ateneo fiorentino: dalle 17 alle 19.30 miniconferenze di 20 minuti l'una si svolgeranno a rotazione in vari spazi, attorno ad alcuni temi chiave: Viaggio ed evoluzione della conoscenza| Memoria e storia| Le vie della comunicazione| Crisi & ripresa| Territori digitali| Cantieri Cultura| Salute!|Curare l'ambiente| Le conseguenze della luce.
Intervento: Territori Digitali – Ore 18:00 - Reti di sensori wireless per il monitoraggio frane


Relatori: Alessandro Fornaciai & Luca Nannipieri
Evento:  Stand divulgativo nella Sezione INGV di Pisa.
Dalle ore 16:00 alle ore 22:00 -Stato dell'arte e prospettive per il monitoraggio degli eventi franosi: l'esempio della frana di Lavinia di Roncovetro (RE) nell'ambito del progetto LIFE+ Wireless sensor network for Ground Instability Monitoring (Wi-GIM)

Relatore: Federico Trippi
Evento: Bright – La notte dei ricercatori 2015
Intervento: dalle Ore 17:00 alle ore  21:00 – Presentazione con stand presso PIN scrl – Polo scientifico di Prato