18-19 and 20 April 2016

Wi-GIM is present to EGU with three poster.
1) The First poster is: "Wi-GIM system: a new wireless sensori network (WSN) for accurate ground instability monitoring"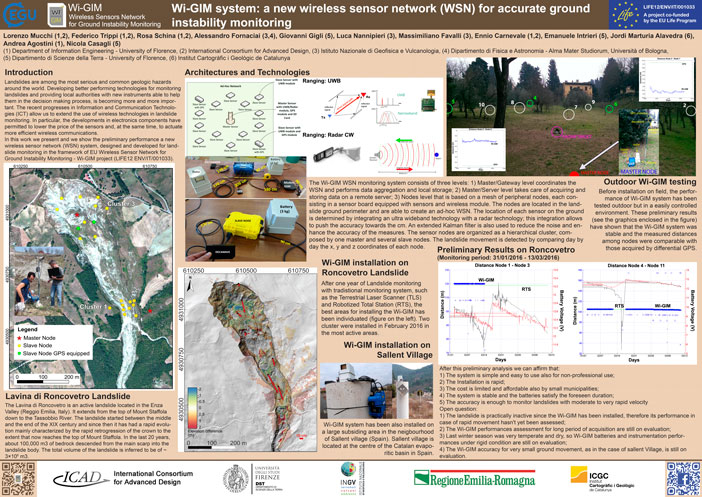 | | |
| --- | --- |
| Information Panel on Sallent Site | Information Panel on Roncovetro Site |
| | |
| INGV, Pisa (ITALY) | Reggio Emilia (ITALY) |
| | |
| Reggio Emilia (ITALY) | Reggio Emilia (ITALY) |
| | |
| Reggio Emilia (ITALY) | Reggio Emilia (ITALY) |
| | |
| Reggio Emilia (ITALY) | Reggio Emilia (ITALY) |
| | |
| ICAD, Firenze (Italy) | ICAD, Firenze (Italy) |
| | |
| DST-UNIFI Department | DST-UNIFI Department |
| | |
| BRIGTH 2014 - Pisa |   |
| |   |
25-Settembre-2015

Wi-GIM sarà presente in grande stile nella notte della ricerca in Toscana, presentandosi in tre città diverse con seminari, poster e stand divulgativi. Scarica il pieghevole (realizzato Patrizia Pantani).
Relatore: Lorenzo Mucchi
Evento: Il Giardino dei Semplici è al centro del programma promosso dall'Ateneo fiorentino: dalle 17 alle 19.30 miniconferenze di 20 minuti l'una si svolgeranno a rotazione in vari spazi, attorno ad alcuni temi chiave: Viaggio ed evoluzione della conoscenza| Memoria e storia| Le vie della comunicazione| Crisi & ripresa| Territori digitali| Cantieri Cultura| Salute!|Curare l'ambiente| Le conseguenze della luce.
Intervento: Territori Digitali – Ore 18:00 - Reti di sensori wireless per il monitoraggio frane


Relatori: Alessandro Fornaciai & Luca Nannipieri
Evento: Stand divulgativo nella Sezione INGV di Pisa.
Dalle ore 16:00 alle ore 22:00 -Stato dell'arte e prospettive per il monitoraggio degli eventi franosi: l'esempio della frana di Lavinia di Roncovetro (RE) nell'ambito del progetto LIFE+ Wireless sensor network for Ground Instability Monitoring (Wi-GIM)

Relatore: Federico Trippi
Evento: Bright – La notte dei ricercatori 2015
Intervento: dalle Ore 17:00 alle ore 21:00 – Presentazione con stand presso PIN scrl – Polo scientifico di Prato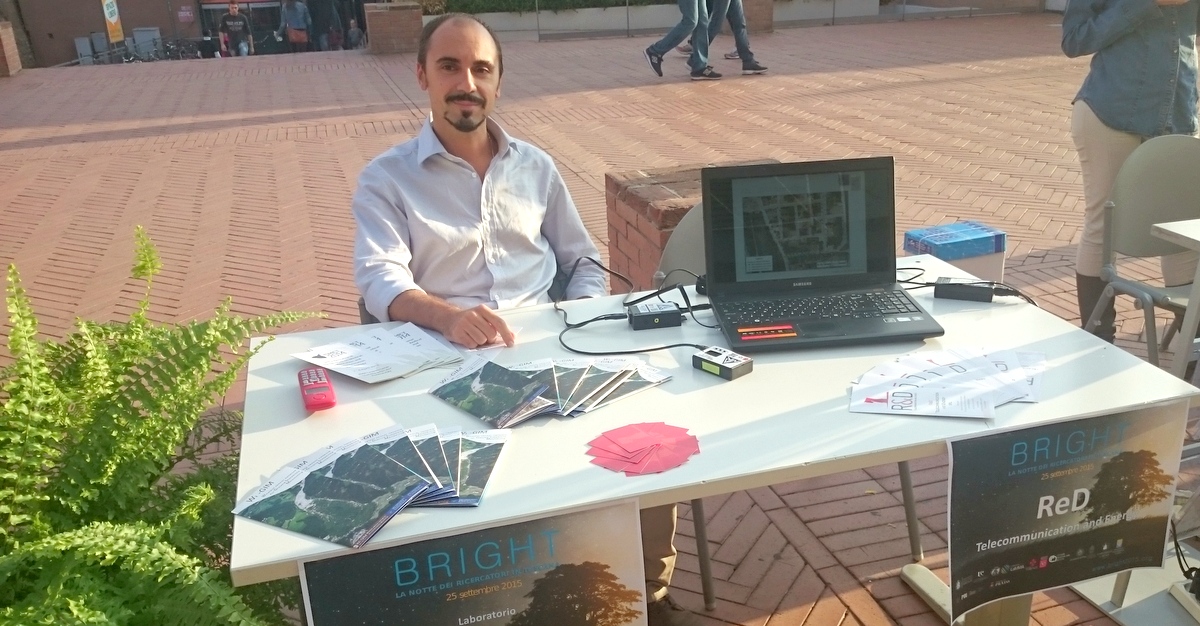 El 21 de novembre de 2014 els alumnes de l'assignatura de "Mètodes d'auscultació del terreny" del Màster universitari (UB-UAB) de Recursos Minerals i Riscos Geològics van visitar el barri de l'Estació de Sallent. En aquesta visita van poder observar els efectes de la subsidència en el terreny, l'estat actual del barri i la instrumentació instal·lada per l'auscultació del terreny. També van poder conèixer els objectius del projecte Wi-GIM i la implementació d'aquest innovador sistema de monitoratge l'any 2015 a Sallent com a zona pilot.